About Us
Pack 374 started in 2010, is based in Menifee, California, and is chartered by VFW Post 1956. We are primarily composed of boys and girls that attend Ridgemoor Elementary School and Taawila Elementary School and live in the neighborhoods of Menifee, Newport Hills, Sun City, and Audie Murphy Ranch. We accept children from any school and any neighborhood; if you want to be part of Pack 374 you are welcome here!
We are affiliated with Scouts BSA Troop 374 for boys, and Scouts BSA Troop 584 for girls.
Our pack is run entirely by volunteers. We cannot offer our successful program without the help of your family! Parents, leaders, and Cubs have fun together as we achieve the purposes of Cub Scouting.
Pack 374 is part of the Tahquitz District of the California Inland Empire Council, Boy Scouts of America.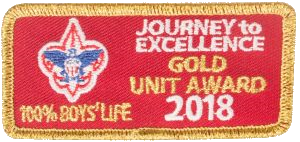 We earned Journey to Excellence Gold 100% Boys' Life in 2018. Way to go! Visit our Wall of Fame page for other awards earned by Pack 374.
Last updated: February 1, 2019