Welcome to Cub Scout Pack 374!
We are the largest and most active Cub Scout Pack in Menifee, California, delivering a quality program by award-winning volunteer leaders. We are an active family-oriented pack for boys and girls in 1st through 5th grade.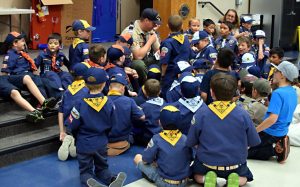 We have events year-round, with activities such as:
Pinewood Derby
Blue and Gold banquet
Lake Elsinore Storm Scout Night
City of Menifee Independence Day Parade
Raingutter Regatta
Summer day camp
Summer camp in Idyllwild
Family camp outs (spring & fall)
Scouting for Food
Ontario Reign Scout Night
VFW Buddy Poppy drive
And much, much more!
---
2018 Year-End Recap
Look at all the fun in 2018!

(video runtime 9:30)
---
BSA Mission Statement
To prepare young people to make ethical and moral choices over their lifetimes by instilling in them the values of the Scout Oath and Law.
Cub Scout Motto


Do Your Best!

Scout Oath
On my honor I will do my best
To do my duty to God and my country
and to obey the Scout Law;
To help other people at all times;
To keep myself physically strong,
mentally awake, and morally straight.
Scout Law
A Scout is
trustworthy,
loyal,
helpful,
friendly,
courteous,
kind,
obedient,
cheerful,
thrifty,
brave,
clean,
and reverent.
---
If you are looking for a Scouting program for boys age 11 to 17,
CLICK HERE to visit the web site for Boy Scout Troop 374.
---
Pack 374 is Menifee's largest and most active Cub Scout pack. We are chartered by VFW Post 1956. We are primarily composed of boys and girls that attend Ridgemoor Elementary School and Taawila Elementary School and live in the neighborhoods of Menifee, Newport Hills, Sun City, and Audie Murphy Ranch. We accept children from any school and any neighborhood; if you want to be part of Pack 374 you are welcome here!
Last updated: December 20, 2018